Hobby
Each of us has a hobby. 
I have a lot of them: I have favorite childhood hobbies that have grown into a vital necessity. There are such needs of the soul, which were formed gradually and crystallized into a vital need. There are also completely fresh but mature needs. But everything is in order.
My child's hobbies – flowers, flowers, flowers… 
Both in the garden, cottage, and houseplants – this is always my eye-pleasing environment. It was a hobby of planting cacti in the junior classes – about 100 pots on the windowsill and a lot of thorns in my fingers. Then in high school from the 5th grade – winter distillation of lilies of the valley, tulips. Then cuttings roses and my own garden with such roses grown from branches after flowering bouquets.
Later in Kyiv, it became a habit to surround oneself, the house, and the workroom with flowers, houseplants … houseplants, and to form flower beds around the building (my patients remember our various seasonal flower beds and the garden around the Clinic).
In general, for the last 25 years, there have always been flowers on my desktop, and a mini-garden in flowerpots in my office. It has already become a daily necessity for the soul and good mood.
And then – even in the Arab world, the need to fill the home with houseplants has not disappeared, and moreover – has become a driving force for finding adapted sorts and the formation of a mini-garden among the sands.
I have a love for growing flowers from my grandmother Maria – she always had a lot of myrtle trees on the windows, and their small twigs in glasses with water always formed roots and my grandmother planted them in the ground.
Since childhood, I like to do houseplants: watering, caring, monitoring their condition and transplanting them in time in new pots, select the appropriate soil for them, care about the necessary conditions for them, and instill in others a love for caring for plants.
For me, plants are always a positive mood, they are my attention and beauty from plants first of all. Here I "bathe" in their always positive energy, draw strength and inspiration for my new ideas, rejoice in every leaf, fresh shoot, new flower. Flowers have become an integral part of my living space. Ikebana, pot design, living arrangements, and vertical flower walls have become my second self. My flowers never fade, I feel them by my soul.
Photo. 
My father taught me to take photos since childhood. I remember winter evenings when he and I showed films and took pictures in the X-ray room at Dad's clinic. At the same time, in my student years, my father taught me radiography based on pictures.
With the advent of digital photography, I have applied all the knowledge of composition, panorama and background cleanliness that my father taught me to form my own collections of landscapes and tourist destinations.
The basics of radiography, which my father laid, allowed me to master the art of clinical analysis of radiographs, CT, and MRI grams on my own.
.
To be a housewife. 
Raising a girl in Western Ukraine has always involved the ability to clean, decorate the home, skills of cooking delicious Ukrainian cuisine, desserts, and sweet pastries for every day, to prepare canned fruits and vegetables for the winter – this is the minimum list that allowed to shape the style of the future hostess.
From childhood, I started helping my mother in the kitchen. Then gradually added self-cooking dinner for Dad, who always dined at home, then the love of canning and baking. Moreover, when the cakes and cream have reached the "human" look, there was a problem with finishing the edge of the cakes. Therefore, in my student years, I had the opportunity to practice in a confectionery shop and learn how to make it all into a single work.
As for canning – I liked to cook jam the most and gradually brought the process to perfection – the jam does not burn in the oven. And its daily preparation gives the chance to bring gradually jam to necessary consistency.
Then the oven was used for canning and canceled the option of triple filling of compotes or assorted vegetables with water and marinade. Perhaps this is where my innovative abilities to improve irrational processes, simplify their technology while maintaining the quality of the final product and minimizing the time for the production process.
Even in such an economic process as conservation, I subconsciously made a proposal, showed my childish creativity and imagination. A rational approach to business, rational use of time, multifaceted tasks at the same time, the development of rational propositions in the technological process began probably then, in childhood in the kitchen.
Over the years, a sense of culinary norm has formed. My recipe catalog is a thing of the past. Over the years, there has been a sense of the structure of the dish and a desire to improve it. Therefore, my creativity is based on classic recipes, which are already recorded at the subconscious level, but with constant improvisation on the list of ingredients, with a non-standard approach and dosage "by eye".
Needlework. 
The love for embroidery is an integral element of the Ukrainian soul, and the ability to embroider is an integral condition of raising a Ukrainian girl.
As a child, my mother and grandmother instilled a love of embroidery and taught different types of embroidery – cross stitch, lowland, smooth, maple. I didn't particularly like embroidering, I preferred knitting. Then in my student years, I came up with applied ideas for embroidery – I sewed and embroidered a dress, then an embroidered set with Richelieu machine embroidery, made by hand.
I am grateful to Larysa Fedonyuk, who then led a clothing modeling group and put a lot of effort into mastering the basics of cutting and sewing with an emphasis on a customer-oriented approach – we sew what we liked, we realized our own fantasies with our own hands.
Knitting was more interesting – a scarf hat, vest, gloves, socks – it became a favorite activity in the 5th grade when I was bedridden for six months with a severe leg fracture. And then – mastered machine knitting and already in my student years freely modeled a variety of things – dresses, suits, etc., combining the skills of sewing, knitting, Richelieu embroidery, etc.
Over time, all these skills came in handy when I began to form my own style of business and festive clothing, to create sketches of Ukrainian and Arab collections, which are already experts in the field – seamstresses, embroidered, and others adapted and implemented in a professional style.
My mother once said, "It's important to be able to do everything and do nothing." In my life, I managed to turn it into a variant of refined style from the hands of experts in my field, when you put in their hands the idea and your style of clothing, design, etc., and they already give birth to a work of high cultural level. Therefore, basic knowledge and skills are needed in everything, even in order to communicate in one language with professionals.
Sports and tourism. 
Since childhood, I love active recreation, in winter – sledding, skating, skiing, summer – tennis, badminton, swimming.
During my student years, there were derivatives – rifle and pistol shooting, cross-country skiing, biathlon. I remember student sports games in the Carpathians, when we trained on skis, prepared for relay races and competitions, and went up to the mountains on foot for 1-2 hours, also went down the forest with skis on our shoulders.
However, the mountains are covered with snow, the purity of the air in which the sound swells, blueberry leaves in the snow with dots of "dew" in the sun. Such untouched beauty can be found only in the depths of the mountains, where only a few tourists reach. This is a variant of hiking when you communicate with untouched Nature at the level of an outstretched hand.
In my life, different sports and tourism have been combined over the years, the love of windsurfing has emerged as a combination of water sports, windsurfing in different parts of the pond, a combination of the active functioning of muscles, and brain and enjoying landscape therapy.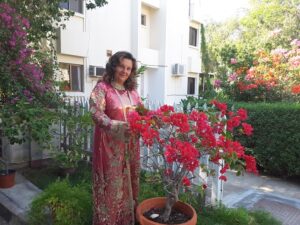 I love beauty at home, in the world, in life. 
Therefore, for many years I have been thinking and implementing the design of my own apartment, the research center and the clinic, and the environment. I believe that the places where we work and live should be especially beautiful and comfortable for work and leisure. Harmony in the soul and body, aesthetic pleasure, flowers, music – this is the minimum needed for every day for positive emotions, inspiration for new projects, life steps.
Therefore, in the everyday environment, I need a comfortable design for scientific creativity, as well as cultural trips to the cinema, theater, concert halls for spiritual enrichment and saturation with positive energy forms. It is the regular attendance of concerts, performances have become a vital need for cultural development and expansion of worldview, the emotional content of the soul.
7. Dancing
I love to dance since childhood. Now, this is the professional work with the coaches of the Arthur Murray Dance Studio Kyiv. 5 months of training, and the first solo is ready! I am grateful to my coaches Vladislav, Natalia, Lesya, Artsvik, Arthur, Vladimir, Nikita, and Alexander for choreography, movement technique, and the art of dancing gracefully.
My Argentine tango from Arthur Murray Dance Studio Kyiv